*This post may have affiliate links, which means I may receive commissions if you choose to purchase through links I provide (at no extra cost to you). As an Amazon Associate I earn from qualifying purchases. Please read my disclaimer for additional details..
After spending so much time, effort, and money to make your hair look good, you surely wouldn't want to see it all go to waste in a flash. If you are a regular swimmer, you know your hair's health and beauty can suffer from long-term exposure to salt water or chlorine.
Does this mean you cannot swim because of your hair? Of course, it doesn't. With protective gear like swim caps, you can swim without worrying about the effect of chlorine or saltwater on your hair.
As long as you put on your swim cap correctly, your hair can remain pretty dry when you swim.
If you have never been able to keep all the water out while wearing a swim cap, you may not be wearing it correctly. But worry not. Below we go over how to put on a swim cap to keep your hair as dry as possible.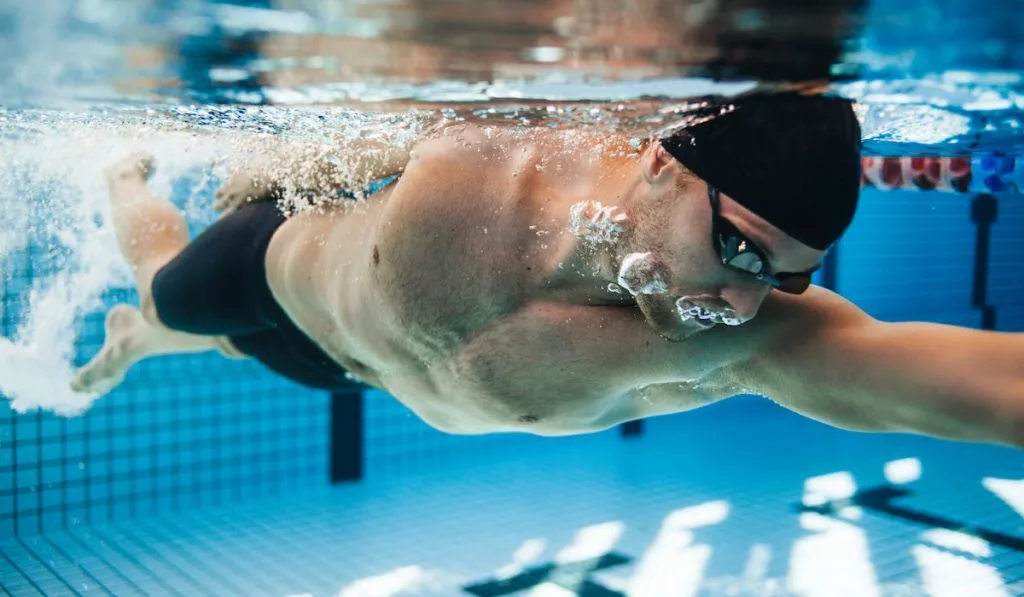 Do Swim Caps Keep Hair Dry?
Swim caps do not necessarily keep hair dry. Their primary purpose is to aid swimmers' movements underwater.
But, when you swim with a swim cap, your hair will be much drier than when you swim without one.
While swim caps can keep your hair dry to an extent, they are not impenetrable.
Knowing how water can seep through the tiniest spaces, you know that no matter how tight your swim cap is, some water will get in.
Besides, manufacturers typically design swim caps for a universal head size.
So, it is unlikely that you will get a swim cap that fits perfectly because heads vary in many ways. Some gaps are therefore likely, especially around the ears.
How to Put On a Swim Cap to Keep Your Hair Dry
Collect Your Hair into a High Bun
Before putting on your swim cap, you should make your hair into a high bun.
Doing this will keep loose strands of hair out of the water. Besides, with your hair in a high bun, you can put the swim cap on without much fuss.
You can make the hair into a ballerina bun, knot bun, topknot bun, or braided bun. If your hair is afro-textured, you can make a Bantu knot or flat twists.
Put on Your Swim Cap
Here, we'll discuss four ways you can wear a swim cap to keep your hair dry.
Wear One Swim Cap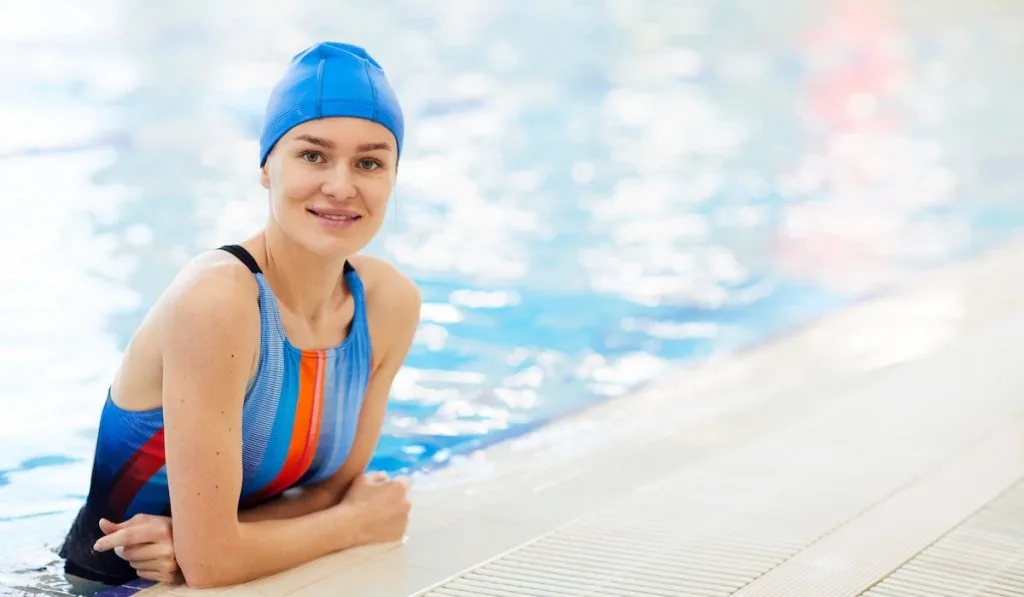 After securing your hair with the right hairstyle, you can wear a swim cap over it to keep it dry. We recommend silicone swim caps over lycra or latex ones because they are more waterproof.
Silicone swim caps are thick, and they seal tightly. Compared to not wearing a swim cap, silicone swim caps will keep your hair drier.
But there's still a chance that water will seep through.
Try Two Swim Caps
To keep water from seeping through the edges of your silicone swim cap, you can double up. You may wear a latex or lycra swim cap beneath the silicone swim cap, or you may wear two silicone swim caps.
Of course, only wear two swim caps if they are not too tight for you.
When you double up on swim caps, let the strap of your goggles run over the edges of both swim caps. This will ensure the swim caps stay in place while you swim.
Put on a Waterproof Headband Beneath Your Swim Cap
You can wear a waterproof headband underneath your silicone swim cap to reduce the chance of water seeping through the edges.
Choose a silicone headband to go with your silicone swim cap. Wear the headband over your forehead and ears. Then put the swim cap over it.
Some people may opt to use the headband alone. But while this will keep your hair in place, it won't keep water out.
Try a Shower Cap Beneath Your Swim Cap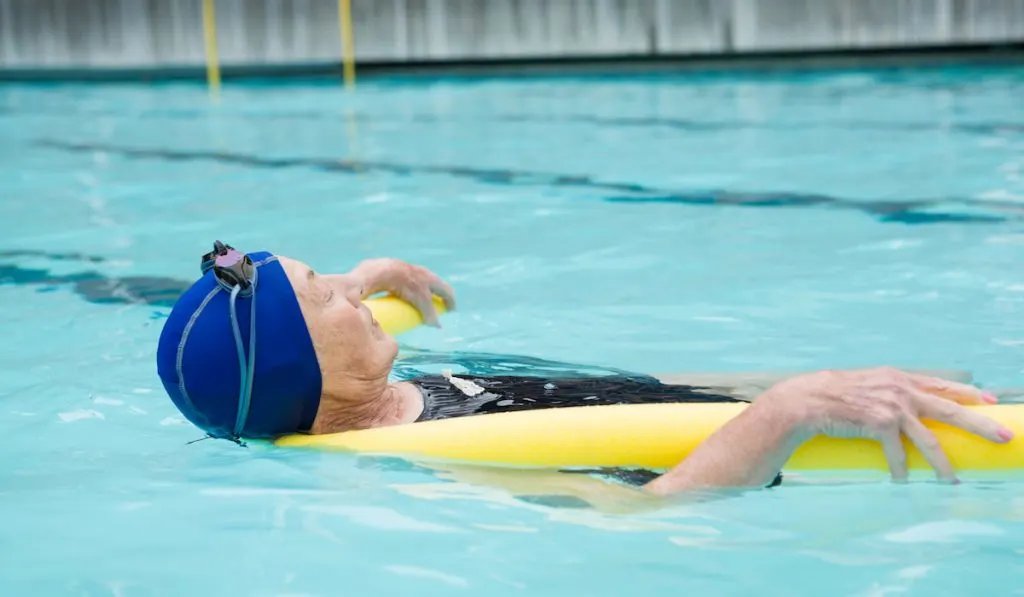 For extra water protection, wear a shower cap underneath your silicone swim cap. You shouldn't try swimming with a shower cap alone as it will slip off when you go underwater.
The swim cap holds the shower cap in place. So, when you use this pair as described above, you won't have to worry about the shower cap slipping off.
For better grip, opt for a new shower cap.
Benefits of Wearing a Swim Cap in the Pool
Swim caps help keep water out of your ears.
Swim caps also keep hair out of your face for better visibility.
Swim caps keep your head warm.
Swim caps increase your visibility in open water (if you're wearing a brightly colored one).
Swim caps keep your hair out of the water and help you keep your hair drier.
Swim caps help you swim faster.
Resources