*This post may have affiliate links, which means I may receive commissions if you choose to purchase through links I provide (at no extra cost to you). As an Amazon Associate I earn from qualifying purchases. Please read my disclaimer for additional details..
Are you an avid runner and biker, spending your mornings and weekends hitting the pavement?
Have you thought, as you jogged through the neighborhood or pedaled through the forest, that you wish you didn't have to choose between a marathon or the Tour de France but could combine your passions in one run-bike racing event?
Or are you an aspiring triathlete, but you are afraid of the water or not a strong enough swimmer even with training?
If there was a triathlon-like event somewhere, it would be an excellent option for you as a challenging starting point, testing the limits of your strengths (running and cycling) as you develop your swimming skills.
And guess what? There is! It's called a duathlon, and it is the perfect option for running and biking enthusiasts who want to see both talents pushed to the limits simultaneously in one competition!
What Is a Duathlon Race? Is It Like a Triathlon Minus One?
Sort of. Triathlons consist of one race with three legs: first, a swimming leg, then a cycling leg, then a running leg.
There are still three legs in a duathlon, but only two sports. The first leg is on foot, then cycling, then finishing it off on foot again.
Duathlons are a much better option for people who want to compete in a challenging, multi-sport event but aren't the strongest swimmers – or don't want to race in a freezing lake!
Duathlons come in multiple different lengths, based on difficulty and endurance.
The shortest is the Super Sprint. In total, it is a 15-kilometer race: a 2.5-kilometer run followed by a 10-kilometer bike ride and another 2.5-kilometer run.
The second shortest is the Sprint, which is twice the length of the Super Sprint, totaling 30 kilometers: a 5-kilometer run, a 20-kilometer bike ride, and a 5-kilometer run.
Almost doubling the Sprint's length is the Standard duathlon event, which is 55 kilometers in total: a 10-kilometer run, a 40-kilometer bike ride, and a 5-kilometer run (probably shorter to keep you from dropping from exhaustion!).
Finally, the longest, and understandably titled, is the "Long" duathlon event: a 190-kilometer race in its totality, with a 10-kilometer run to start, followed by a 150-kilometer cycling section, and finishing off strong with a 30-kilometer run to the finish line! Wow!
How Should I Prepare for a Duathlon?
The materials required for a duathlon are one of the biggest positives in choosing it over another multi-sport event such as the triathlon. Due to the swimming being cut out, duathlons are the minimalist option for these multi-sporting events.
Gear
For clothing, swimsuits or tri suits are not required: you can easily get away with a t-shirt and biking or running shorts, or whatever you regularly wear on your bike rides and runs. Just make sure they are comfortable, and you have trained in them so you feel confident wearing them on race day.
You can wear running shoes, switch to biking shoes and then back to running shoes, or wear running shoes throughout – whatever makes you feel that you are performing at your best.
Helmets are a must, and a bike to match the helmet would be good, too, for the biking portion! You can use a regular bike, but a triathlon bike is probably more desirable in a race.
Triathlon bikes differ from regular road or dirt bikes in that the seat tube angle is approximately 45 to 75 degrees, making the racer more aerodynamic.
Due to this feature, triathlon bikes will make the air cut past you much more smoothly, and you will feel less resistance throughout your race – which is a good move considering how far you've got to go!
(Sorry, we're staying positive; I know! You're so much stronger than me for doing this. I'm so proud!)
Sunglasses are wise to include as well. Wear sports sunglasses that are light and closer to the shape of your face so they don't keep coming loose or falling off while you bike and run. (They're supposed to make it easier, not more difficult!)
And, of course, make sure you have a light rubber or plastic water bottle for your run and a water bottle holder installed on your bike for the cycling event.
Being dehydrated is one of the worst ways to run a race!
Train
Now that you have all your gear, it's time to train! What? But I thought we were ready for race day! Nope, I tricked you.
You should always start training with the materials you'll need and use on race day and keep doing so throughout training.
It makes life so much easier on the day of your competition when you are comfortable and confident in your gear.
Of course, if you're working your way up, you can gradually begin using a triathlon bike or running with sunglasses on.
Is There a Basic Training Plan for a Beginner Duathlete?
Of course! Training programs are primarily based on the amount of time you've got before the race and the difficulty of the coming competition.
The ultimate goal of your training regimen is not to increase your speed but increase your minutes of being active.
You'll want to build up endurance – the actual ability to finish the race – before focusing on the speed at which you accomplish the race.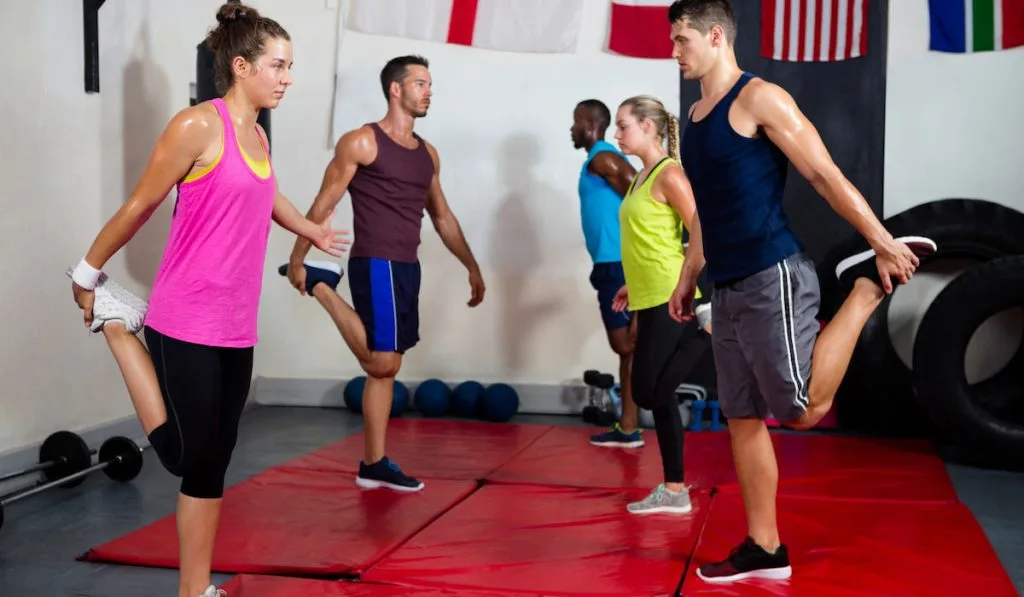 A basic training plan for your duathlon success would be:
Week 1
Monday: 30-minute run
Tuesday: Stretch and rest
Wednesday: Bike for 60 minutes
Thursday: 20-minute run
Friday: Bike for 20 minutes
Saturday: Stretch and rest
Sunday: Bike for 60 minutes
Week 2
Monday: 20-minute run
Tuesday: Stretch and rest
Wednesday: 25-minute run
Thursday: 60-minute run
Friday: 20-minute run
Saturday: Stretch and rest
Sunday: First combination! Run for 10 minutes, bike for 40 minutes, and do another 10-minute run. Make sure to do it all in a row to get a feel for the actual competition.
The Remaining Weeks of Training
Alternate between running and biking daily, giving yourself a rest on Tuesdays and Saturdays.
Gradually increase the time you run and bike for, and every week add a day where you bike and run on that day.
Finally, once you're confident in your endurance, start paying attention to the distances you have run and biked.
What to Expect on the Day of Your Duathlon
If you've ever done a triathlon or know how the process works, it's pretty similar. Everyone gets racing numbers, which they pin to themselves and stick to their equipment.
Remember that having your racing number displayed at all times is essential, so make sure it is firmly secured and visible.
Then you gather all of your materials and bring them to the transition area, which you can set up in whatever way you please – and how you have practiced. That will give you the most success.
The First Run:
Everyone starts at the same time, but after the first leg, people have spread out enough that it isn't claustrophobic, and everyone can feel like they're in their own little world.
Your First Transition:
This is where you loop back to the transition area. Here you can get some water, change shoes or take off your running pants to display biking shorts underneath, put on your helmet, and get on the bike!
Remember to put your helmet on first because sometimes you can get caught up in the moment and race off without it. Since you can't race without one, you'll waste time going back and getting it and putting yourself in danger riding without one.
The Cycling Portion:
Usually, there's a place outside the transition area designated for mounting your bike. You won't be able to do so in the transition area, just for the safety of the other athletes.
Once you reach the designated area, you can mount and take off!
The Final Transition:
Once you've completed the cycling, there will also be a designated dismounting section. Dismount, rack your bike properly, get water, take off your helmet, and do whatever clothes changes are needed to prepare for your last leg!
The Last Leg:
Power through, embrace the pain, and know that you've worked hard for this and earned it a thousand times over! You can do hard things, and you've got this!
Final Thoughts
A duathlon is all about self-improvement and self-empowerment. That's one of the best things about these multi-sport races: it's more of a competition against yourself rather than against other people.
You're fighting to say, "I can finish this," or "I can finish faster than I did before." And that is just amazing and something to be proud of. Duathlons are the best!
Resources