*This post may have affiliate links, which means I may receive commissions if you choose to purchase through links I provide (at no extra cost to you). As an Amazon Associate I earn from qualifying purchases. Please read my disclaimer for additional details..
Participating in a triathlon is an exciting way to test your endurance. You need to have the mental pressure and fitness levels required to complete the race, however. Getting the right road bike for a triathlon is also essential.
A triathlon road bike can make the process of finishing a race enjoyable as it's simple to steer, easier to maintain, and lightweight. Whether you're going for long slogs over hours or a short sprint for some minutes, the right road bike can perform well over several surfaces.
Our detailed guide lists some of the essential things you need to consider when selecting the best road bike for a triathlon. We also list some top recommendations based on our research findings.
Top 10 Best Road Bikes for Triathlon Beginners
Some of the road bikes to consider include:
1. Eagle T Series Carbon Fiber Triathlon Bike
The Eagle T Series Carbon Fiber Triathlon Bike boasts excellent stability and comfort, with lots of features that you'll love as a triathlete.
It's lightweight to increase your comfort during rides. The manufacturer also includes vibration dampening, which reduces all forms of vibration for extra comfort.
Finding a bike that can handle different terrain is never easy, but with the Eagle T Series bike, you can enjoy the comfort of racing in any terrain as it comes equipped with electronic shifters.
Other impressive features include the carbon handlebars, Shimano derailleur, and carbon wheels for extra strength and unmatched performance.
Triathletes between 5'2″ and 6'4″ will find this triathlon bike a great fit. The best part is that you can use this triathlon bike for everyday use apart from the races.
Pros
Works for different riding styles
Has an adjustable seat for extra comfort
Can be used for both recreational and racing needs
Cons
Some users found that the bike needs extra strength to pedal
Has some delicate parts
2. Hiland Aluminum Road Bike
Hiland Aluminum Road Bike
【Upgraded Choice】Alliance 1.0 is a road bike which combines the smooth, comfortable qualities of an advanced alloy frame with the performance of higher-quality parts. It features an upgraded drivetrain and disc brake for a fast road bike perfect for miles of fun, fast riding on pavement ,even for club rides or races.
【Shimano Drivetrain】The road bike has a upgraded Shimano 21 speed shifter and derailleaur has a wide range of gears for riding on any terrain.You want to invest in higher-quality performance parts that will keep pace with you as you continue to hone your road cycling skills.
【Fit Various Routes】28C tire not only help you fast riding on flat roads, but also be stable on slightly gravel roads. It has a lower rolling resistance than wider tires, and it is slightly larger than 25C with more cushioning, more resistance to pinch-flats.
As a beginner triathlete, finding a bike that is affordable and will help you improve your speed is critical. The Hiland Aluminum Road Bike is a perfect choice for anyone looking for a budget-friendly bicycle that doesn't sacrifice comfort.
You don't have to worry about wobbling all over, as the Hiland bike provides incredible stability whether you're training for a triathlon or participating in one.
The lightweight aluminum alloy frame makes this bike a pleasure to take on leisurely rides with the family or through the course on race day.
This bike features a Shimano 21-speed shifting system that is smooth and geared to handle race conditions on varied terrains, which the wider, 28C tires handle easily.
Long-distance triathlons can be demanding, and the Hiland Aluminum Road Bike is available in two sizes to accommodate riders of varying heights. Easy effort disc brakes round out this great package.
Quick assembly out of the box means you will be hitting the roads to train in no time!
Pros
Two frame sizes to accommodate taller riders
Features lightweight aluminum alloy frame
Comfortable to ride over long distances
28C tires handle some gravel well
Cons
3. Eurobike EURXC550 Road Bike
EUROBIKE Bikes EURXC550 21 Speed Road Bike
Disc Brake System – Provides long lasting and stronger fasting stopping power than the traditional V-Brake Systems.
Top of the line Components – Includes Shimano products that are known to last including derailleurs and shifters.
Aluminum fashion rims and perfect design.
Recommended for rider's height 5'3″-5'9″. Max weight up to 300lbs
Multiple choices give you a colorful ride experience
Featuring an intelligent and modern design, the Eurobike EURXC550 Road Bike is a must-have for any beginner triathlete. Its 21-speed shifting system allows you to reach new speeds, while the dual disc brakes ensure you stop safely.
You'll enjoy the stability that this bike comes with, thanks to the rigid suspension and sturdy steel frame. Tall riders can easily find their perfect position as the saddle is adjustable. Its design also supports the lower back.
Apart from being excellent for beginner triathletes, the Eurobike Road Bike works perfectly for advanced and intermediate riders. Enjoy better handling and control thanks to the iron casting racing handlebars.
Pros
Excellent handling and control
Comes with multiple-speed settings
Efficient braking system
Durable steel frame construction
Cons
Some users felt that the bike was heavier than most road bikes
Prone to rust if exposed to wet conditions
4. Tommaso Imola Endurance Aluminum Road Bike
Tommaso Imola Endurance Aluminum Road Bike
QUALITY CYCLING PRODUCTS SINCE 1985: Our Italian designed cycling shoes, bicycle, and cycling products have made riders look like pros since '85. But we're more than just fancy gear, we're a community. Our cycling-crazed customer service team in Denver can help with any questions or concerns. Plus, our Lifetime Warranty Replacement Promise means you can put our gear to the test with unrelenting confidence. We hope that you will Join The Ride, for fun, fitness, and community.
THIS IS AFFORDABLE PERFORMANCE, NOT ENTRY LEVEL: The Imola is a top-performing bike that's not just for beginners. Starting cycling can be intimidating, but we believe that new riders deserve bikes that deliver affordable performance without compromising on quality. We recommend the Imola for new riders who are serious about their cycling goals. Unlike other so-called "beginner bikes" that are quickly outgrown, the Imola comes packed with high-quality components found on high end bikes.
The Tommaso Imola Endurance Aluminium Road Bike is a fantastic option for entry-level triathlon cyclists looking for a bike at a mid-range price.
The bike has a lightweight aluminum frame that reduces drag at high-speed rates. You'll love the vibration dampening properties when riding the bike on different terrain.
Previous users love how comfortable the road bike can be for long-distance triathlons.
Its full Shimano R2000 Claris groupset also adds to a flawless, smooth ride. You can easily change the gears with the shifters as the brakes bring you to a stop.
You can also add fenders or mudguards, as the frame has drilling points.
Pros
Has a comfortable riding position
Suitable for beginner triathletes
Lightweight aluminum frame
Excellent braking and shifting systems
Simple to customize
Cons
Low-quality gears
Fitted with cheap pedals that may need changing
Doesn't have aerodynamic features
5. Eurobike Road Bike XLTL-XC7000
EUROBIKE Road Bike for Adult Men
【Lightweight Road Bike】- Eurobike XC7000 road bike frame material is 6061 lightweight aluminum, the net weight of the bike is about 13kg. The HYXC7000 road bike is designed to give you a fast, light road riding experience.
【Shimano 14-speed shifting】Bike speed can be selected according to different road conditions. Smooth speed lets you pass straights with ease while still providing plenty of power when starting the climb
【Arc road bike handlebars】mens road bike with Arc handlebar can greatly reduce the resistance of the riding stroke, making your riding faster and less labor-intensive. Allows you to ride like a Tour de France pro, with better leverage uphill and a more aerodynamic profile when racing or facing strong winds
If you're looking for a road bike that also races as a tri-bike, you should get the EUROBIKE Road Bike XLTL-XC7000 Bike. With lightweight spoke wheels in a classic design and mechanical caliper brakes, the EUROBIKE is an ideal bike for any entry-level triathlete.
It also features an aluminum alloy frame that makes it lighter weight and allows you to ride smoothly on bumps, which makes it perfect for long-course racing.
Shimano A050 shifters with 14 speeds keeps you moving along on your ride, and the easy assembly out of the box gets you on the roads faster.
Overall, the EUROBIKE Road Bike XC550 is ideal for triathletes looking for a road bike with some of the latest designs, lightweight components, caliper brakes, and an affordable price.
Pros
Aluminum crank allows for easy pedalling
Affordable
Offers fantastic tire clearance with direct-mount caliper breaks
Aluminum, quick-release rims
Shimano A050 shifting
Cons
Only 14 speeds
Only comes in one 54cm frame height
6. Vilano Shadow Road Bike
Vilano Shadow 3.0 Road Bike with Integrated Shifters
Integrated Brake Lever/Shifters mean controllable braking and shifting in a convenient single unit designed for the road
6061 Double Butted Aluminum Aero Frame w/ Integrated Headset & Internal Cable
Wheelset: 700c Doubled Walled CNC Machined Side, 700c x 25c tires
Brakes: Caliper
Free pedals included
Featuring a lightweight, aluminum frame, the Vilano Shadow Road Bike is one of the best value bikes for triathlon beginners. Despite having a 14-mph speed limit, the road bike has integrated shifters that enable quick shifting and braking.
The tubing is narrow, which makes the bike aerodynamic and fast. Vilano Shadow bikes also come with Shimano Tourney derailleurs and a 2X drivetrain with 14 gears, components mainly found in expensive road bikes.
Weighing under 30 pounds, the road bike is considerably lightweight, considering all the fitted components. You'll find traditional dual-pivot type brakes. Some users found the stock brake pads to be soft, but they are replaceable.
Although the assembly of this bike is simple, it requires fine-tuning and a safety check by an experienced bike mechanic. The pedals and saddle are a bit disappointing, with some users complaining about how uncomfortable the saddle feels on long rides.
Pros
Excellent handling on turns and descents
Affordable price point
Lightweight option for beginner riders
Comes with a provision of two bottle mounts
Cons
Some people had issues with the brakes
A few users found the saddle uncomfortable
There were complaints about shifting
7. Schwinn Phocus 1600 Road Bike
Schwinn Phocus Adult Road Bike, Aluminum Frame
Aluminum road frame paired with a carbon fiber road fork for swift and agile riding, with 700c wheels that fit to riders 5'4″ to 6'2″ height
16 speeds, Shimano derailleurs and intergrated Micro-shift shifter brake lever combo for precise gear shifting
High-profile alloy double-wall rims with paired spokes are lightweight and strong with front quick release
Promax alloy dual pivot caliper road brakes ensure precise and confident braking, delivering crisp stops
Alloy crank for a broad gear range and road-style tread tires for fast and smooth riding, and optimal performance
Buying a road bike for a triathlon can be limiting if you're on a budget. However, you'll be surprised to learn that the Schwinn Phocus 1600 Men's Road Bike is one of the most durable and most affordable bike options on the market.
It's made from aluminum, which makes the bike a bit heavy, but durable. You'll love the bike's stylish yet unique black design that comes with a rigid fork for agile riding.
Another outstanding feature is the 16-speed drivetrain, which provides plenty of functionality, especially for beginners. Its caliper brakes provide exceptional stopping power, while the alloy rims with paired spokes provide a sturdy front quick-release.
Pros
Affordable
Durable aluminum construction
Quality caliper brakes for stopping power
Fitted with a 16-speed drivetrain for easier handling
Cons
It's unsuitable for big-bodied riders
8. Schwinn Volare Mens and Womens Hybrid Road Bike
Sale
Schwinn Volare Mens and Womens Hybrid Road Bike
Quick and agile riding with the 21-inch aluminum fitness frame and rigid fork, with 700c wheels fit riders 5'4″ to 6'2″ height
14-speed shifter and brake lever combo provides precise shifting, you can trust for years of smooth shifting
Road bike equipped with alloy linear pull hand brakes, ensuring superior braking performance
Hybrid bike with drop style handlebar and sport saddle, and alloy wheels, alloy crank, alloy brakes and components
Arrives partially assembled, will require tools, Philips head screwdriver, Allen wrench 4-8mm, adjustable wrench, pair of pliers with cable cutting ability
If you're in the market for a racing road bike with classic Schwinn styling, you should check out the Schwinn Volare. Both the men's and women's models feature an aluminum frame in multiple colors.
This bike has 14 speeds and mechanical pull brakes for those who prefer a no-nonsense bicycle on race day. All parts are constructed of aluminum or alloys to reduce weight and keep motion flowing easily.
Schwinn's lifetime warranty is, of course, valid for as long as you own the bike, and the Schwinn name provides the comfort of knowing parts and repair are easily sourced. Reinforced, oversize Schwinn tires complete the ride and keep you enjoying the race course.
Pros
It comes pre-assembled
28-inch reinforced Schwinn tires
Durable and lightweight aluminum frame
Provides effective and smooth shifting with combo brake-shifting levers
Cons
Simple design without modern design features
Only 14 speeds
9. Trinx Tempo 1.0 700C Road Bike Shimano 21 Speed Racing Bicycle
Trinx TEMPO1.0 700C Road Bike
700C*(53cm or 56cm) Hydroformed AI6061 Aluminium Alloy Frame, 530mm for height 5'6-5'10, and 560mm for 5'10-6'2
Trinx Hi-Ten Steel Fork;
Shimano A050 Shifter, Shimano TZ31 Front and TZ50 Rear Derailleur, Shimano Cassette;
Cst 700C*25C Colorful Tires, Alloy Double Wall Rim, Winzip Alloy Brakes, KMC C50 Chain;
Shimano 21 Speed Road Bike, 25lbs Net Weight;
The Trinx Tempo Speed Racing Bicycle is an excellent bike for beginners who can handle the 21-speed gears. It has a hydro-formed aluminum alloy frame with a steel fork that adds to the durability of the bike.
Previous users found the bike's brakes comfortable to change with smooth shifting. The bike is also perfect for beginner cyclists that can handle the aero mode.
Other features include an alloy double-wall rim, colorful tire rims, and Winzip alloy brakes.
Pros
Comes with rear and front suspension
Features caliper brakes with excellent stopping power
Durable hydro-formed aluminum alloy frame
Cons
The bike needs assembling and may be challenging for some beginners
Might not be suitable for people who've not mastered the aero mode
10. PanAme 26-Inch Road Bike for Men and Women
PanAme 26 Inch Road Bike for Men and Women
[STURDY FRAME] Strong aluminum frame is up to the terrible road situations and the purpose for stable-riding can be fulfilled. It also provides comfortable and adjustable handle bar and seat post for you.
[UNIQUE DESIGN]700C Road bike with 14 speed shifting system and alloy dual pivot brake. Wheel width/diameter: 1.2 inch /25.2". Recommended for rider's height 5'3 inch -6'0 inch . Max weight up to 330lbs.
[QUICK ADJUSTMENT] Allow you to switch through the gears very quickly with your finger tips, so you can quickly select a gear for every terrain. High-performance 700C tires can solve multiple challenges and problems of rigorous street racing.
The PanAme is an excellent, solid triathlon bike for beginners that can double as a commuter ride.
Made from aluminum, the PanAme is light and makes sprinting and accelerating a breeze. Its design was tested in a wind tunnel to provide an aerodynamic ride and reduced drag.
This bike has quick-shifting mechanisms to keep you accelerating at crucial points in the race. The ergonomic seat is larger than more expensive models but is easy to switch out for your own comfort.
Pros
Features a responsive and lightweight aluminum frame
Tested design to reduce drag
Built for speed
Comes in multiple colors
Easy assembly
Men's and women's sizes available
Cons
Challenges reported with customer service when requested
Comprehensive Buyer's Guide: What Should You Look For in a Triathlon Bike?
Getting a new triathlon bike can be exciting as it gives you the motivation to train and be at your best. However, as a beginner, you may find the process of comparing the different road bikes overwhelming.
Our detailed buyer's guide has some helpful tips on what to consider when purchasing a triathlon bike.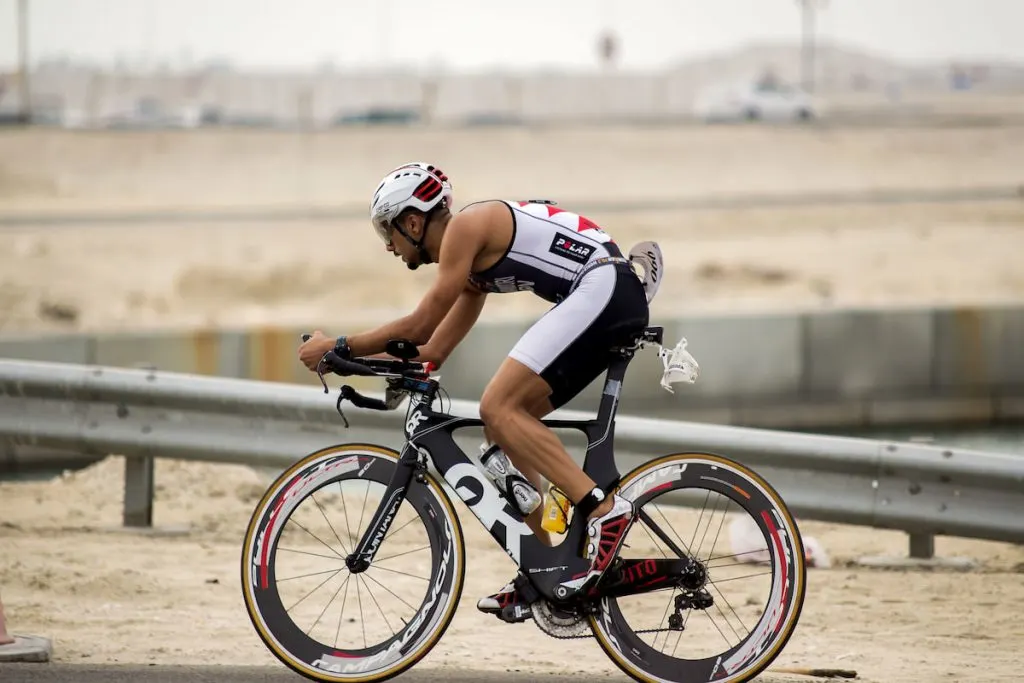 Check the Aerodynamics of the Bike
A good road bike for triathlon beginners needs to have the right aerodynamics.
It's vital to select a bike with an aerodynamic riding position if you're going for shorter and fast races. However, for high-level endurance races, you'll need a lightweight road bike to maintain your energy and be comfortable throughout the race.
You'll find that most bikes have an altered frame shape, while others have a dropped downtube to reduce the space between the front wheel and downtube. That improves airflow and enhances aerodynamics.
A bike with a deeper wheel profile has improved aerodynamics. Some manufacturers will also remove seat stays or include dropped seat stays to reduce drag.
Don't Overlook Comfort
A triathlon race can go beyond 90 kilometers, and the last thing you want is to be uncomfortable throughout this solo ride.
The right road bike should be adjustable. You should be able to adjust your position without interfering with your mobility or flexibility.
Road bikes also come with different extension shapes. Some are curved, some are straight, while others point upwards.
Find a bike with your desired extension shape as this helps to keep your wrist in a neutral position. Furthermore, the right extension shape offers enough structural support for your upper body.
Triathlon-specific bikes have a shorter saddle with a cutout section at the middle. That is meant to reduce the pressure on the pelvis, as you'll be in a bent-over position for an extended period.
Check the Frame Materials
Triathlon bikes are lightweight to help you move fast and save energy. It's essential to check a bike's frame material before purchasing.
Most bikes have an aluminum frame as it's lightweight and affordable compared to other materials.
The best triathlon bikes and time-trial bikes have a carbon fiber frame. Although the material is featherlight, it's more expensive compared to aluminum.
Titanium is an excellent option if you're looking for a more durable and tough bike frame material. However, titanium is quite expensive and is only included in higher-end bikes.
Check the Gearing System
Triathlon road bikes can either have a mechanical or electronic gearing system.
With an electronic gearing system, you can change gears from the brake bars and TT (time-trial) extensions.
If you opt for a mechanical system, ensure the bike has a vast range of gears as this will be helpful when tackling long races.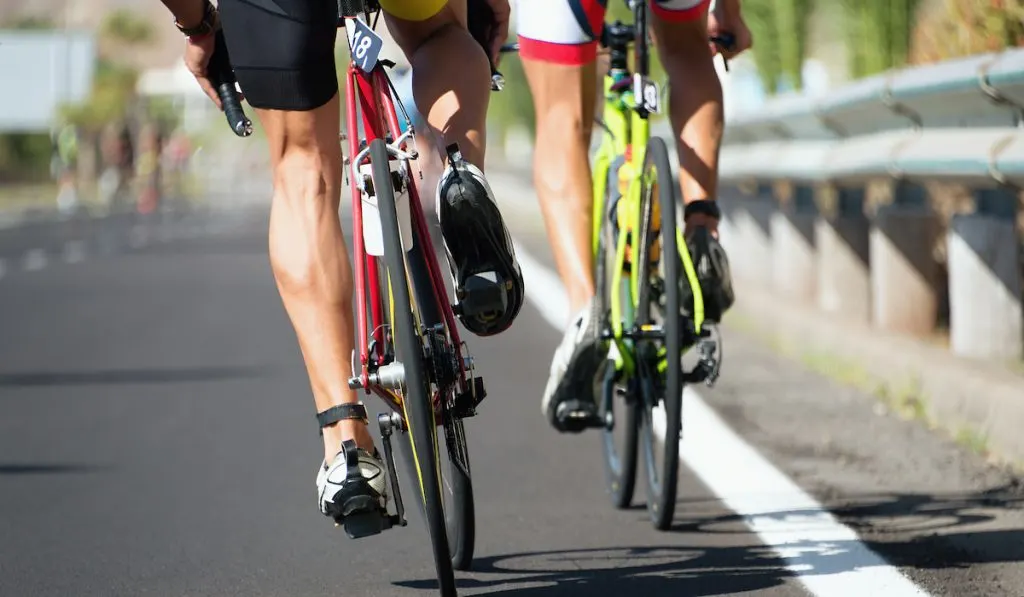 Find Out if There are On-Board Storage Options
Triathlon road bikes are meant for long distances. Check if the bike design has compartments that can accommodate your water bottle and other useful gear.
Determine Your Riding Level
As a beginner, you need a bike that can accommodate your riding level. Most triathlon bikes for experienced triathletes are expensive.
It's best to start with an entry-level road racing bike as it won't be specialized like a high-end time trial or triathlon bike meant for riding at high speeds.
Have a Budget in Mind
You need to set a budget before you walk into a bike shop. Understand the available choices and determine how much you're willing to spend.
Decide on the accessories you need and factor this into your budget.
Final Thoughts
Finding a reliable road bike can be challenging for any beginner triathlete. Ensure that you look out for things like the wheel size, suspension type, weight, design, speed, etc., when buying a road bike for the first time.
With our detailed buyer's guide and some top recommendations on the best road bikes for triathlons, you're sure to find a bike that fits your needs and budget!
Resources