*This post may have affiliate links, which means I may receive commissions if you choose to purchase through links I provide (at no extra cost to you). As an Amazon Associate I earn from qualifying purchases. Please read my disclaimer for additional details..
Cycling shorts are one of the must-have outfits for avid cyclers looking to maximize their performance while staying as comfortable as possible.
In the old days, cycling shorts were made of knitted black wool. This material is flexible enough to hide wear marks when cyclists sit on an oiled leather saddle for too long.
Nowadays, most cycling shorts are made of spandex with a synthetic chamois (pronounced "shammy"). Choosing the best cycling shorts is more than just looking at their materials. The million-dollar question that many people ask is:
How tight should cycling shorts be?
Great cycling shorts should not be too tight or too loose. When you first put them on, they will feel slightly tight, but over time, they will stretch and adjust to your body.
Cycling shorts that are too tight can make you feel uncomfortable, as they restrict your muscle movement and blood circulation.
Conversely, shorts that are too loose can irritate your skin or hips because of the chamois that moves whenever you cycle and move your legs. Additionally, cycling shorts are also designed with padding in the right spot to keep you comfortable when cycling.
Important Factors to Consider
There are a few things that you should know when choosing cycling shorts. For instance:
Design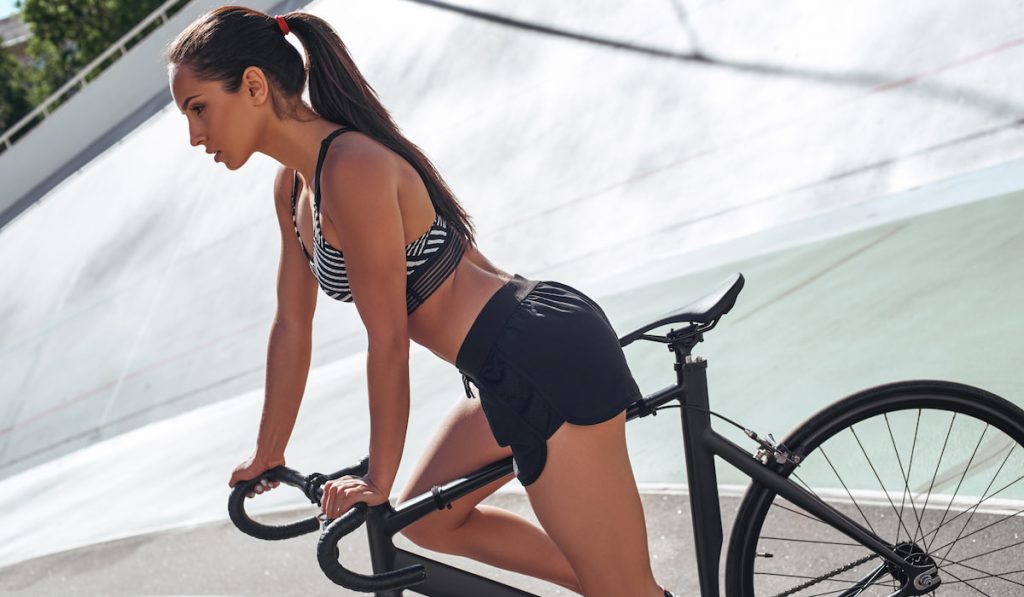 The design is the most critical part of choosing the pair of shorts that best suits you.
Most cycling shorts are made from six to twelve vertical panels that provide extra curvature, creating a snug but not tight fit.
Back in the old days, these panels were used to maximize comfort. However, modern technology has produced better shorts that don't rely on the number of panels to increase comfort.
Unlike casual shorts, the flat seams don't grip your skin when you're peddling. Cycling shorts also have grippers at the ends of the shorts to stop the fabric from moving up your leg.
Depending on your body size and preference, cycling shorts can be worn by both genders.
But generally, men's cycling shorts are much wider around the waist with a shorter rise than women's shorts with smaller waistbands and a longer rise.
Fabric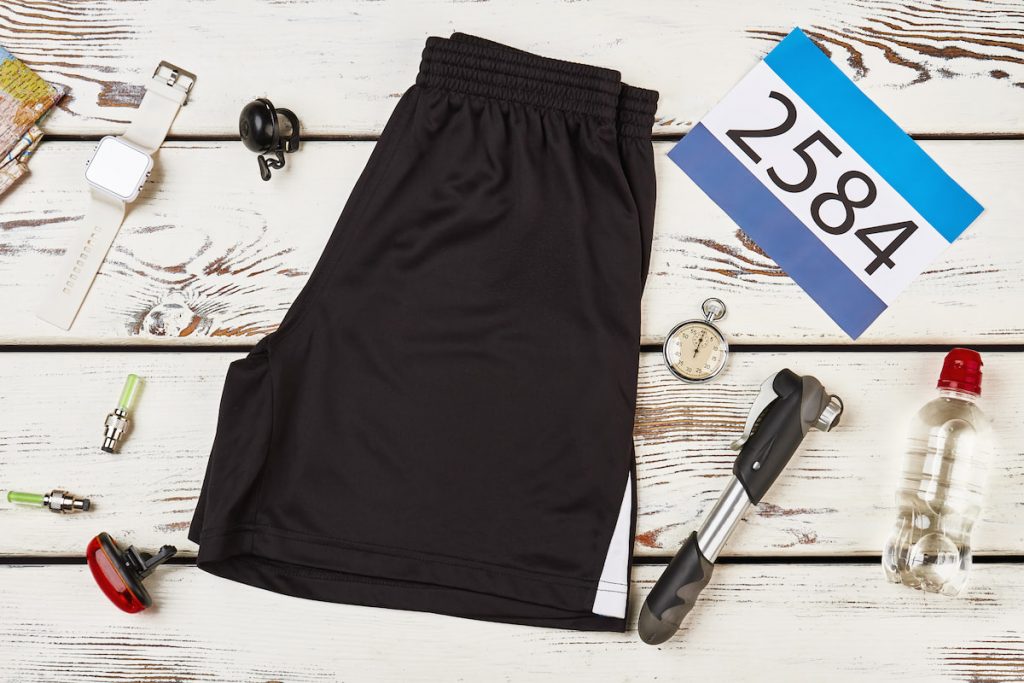 Commercial cycling shorts are produced from stretchable fabrics and are easy to put on. These stretchy fabrics are compressible enough to support muscles and promote better blood flow.
The tightness of the fabric keeps the parts of the shorts in place and provides some support to your leg muscles.
Some brands also produce cycling shorts made of nylon spandex and polyester yarn. This type of shorts with high-tech fabrics can repel moisture and offer better air circulation inside the shorts.
Chamois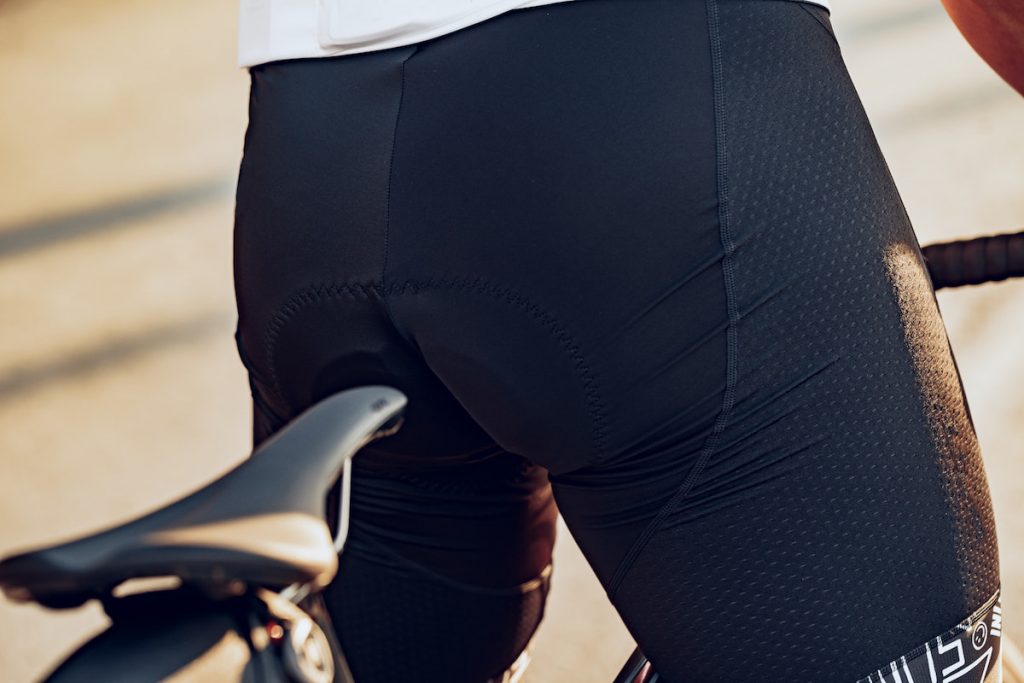 Most cycling shorts come with a foam padding known as the chamois. They are sewn into the saddle area to maximize comfort.
Different brands of shorts come with different thicknesses of chamois. The thickest ones protect with layers of thick foam or gel inserts that act as shock absorbers.
The chamois also cushions your buttocks and reduces abrasion when peddling.
As a general rule of thumb, if you ride your bicycle upright frequently, shorts with a thicker chamois would be your best choice.
The chamois might feel bulky at first but should stretch and follow your body shape after wearing your shorts for some time.
Avoid buying shorts with thick, hard, and non-stretchable chamois that could cause discomfort and irritation. A good chamois should be made with a soft microfiber shell fabric that allows your skin to breathe through the material.
Waistband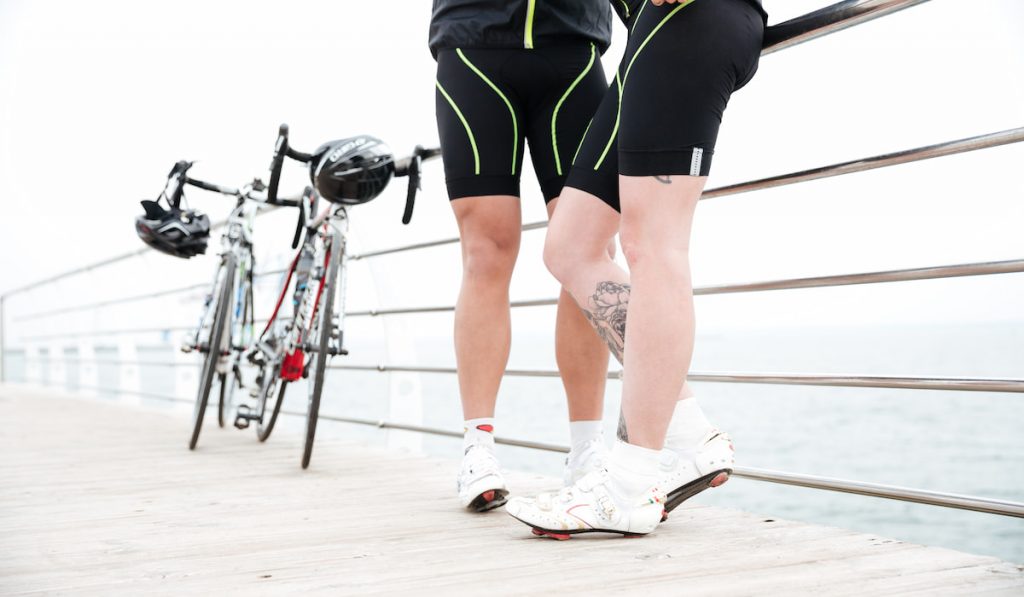 There are three types of waistbands that you can find on cycling shorts.
Most commercially-produced cycling shorts come with a non-adjustable elastic waistband. However, some brands offer looser waistbands with drawstrings.
Women's shorts also come with non-elastic yoga waistbands that promote comfort without sacrificing style.
Different Types of Cycling Shorts
There are many brands of cycling shorts that you can find out there, be it online or in the store. But out of these different varieties on the market, they fall into three types.
Bib Shorts
Bib shorts are popular with racers. They come with breathable straps that go around the shoulder and don't have waistbands.
Your movement might feel a bit restricted at first, but once you are used to them, bib shorts perform in ways other cycling shorts can't.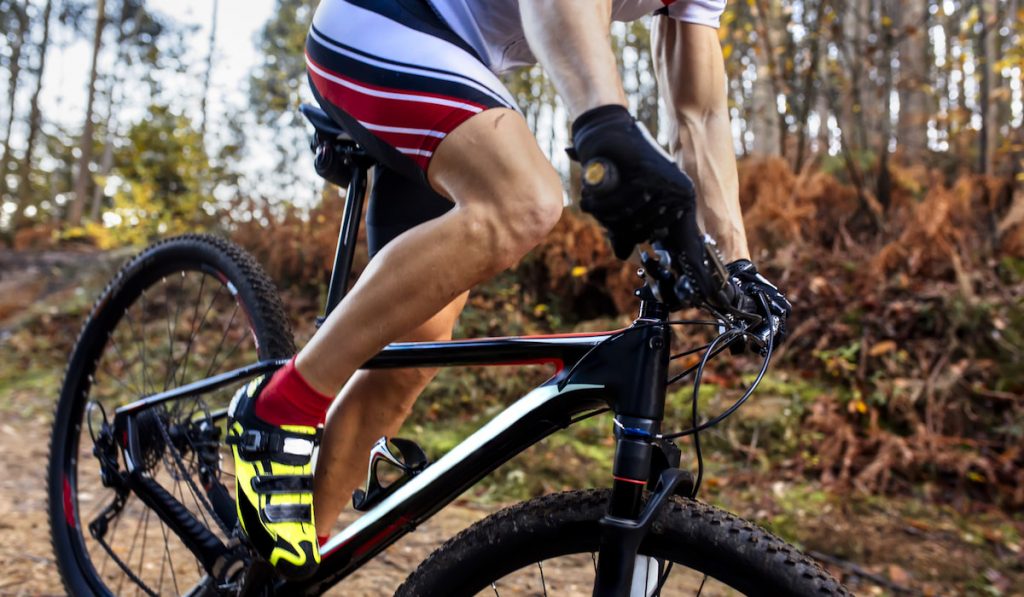 Due to their quality, bib shorts are also more expensive than other shorts.
Lycra Road Cycling Shorts
This type of shorts is made of elastic polyurethane fiber or spandex. They are stretchable and fit easily according to your body shape.
Most Lycra shorts are equipped with waistbands and leg grippers to prevent the shorts from moving up riders' thighs when they bend and peddle.
Mountain Biking Shorts
Also known as baggy shorts, these shorts are made up of two pairs of shorts.
The outer short is lightweight, comfortable nylon that looks like a pair of hiking shorts. The inner short comes with a padded liner.
Mountain biking shorts are warmer than the others so you can use them in colder weather too.
How to Wear Cycling Shorts
If you've never worn cycling shorts, it might look as simple as wearing any other shorts. But to get the best performance out of these garments, you should know how to wear them properly.
Wear a Well-Fitting Size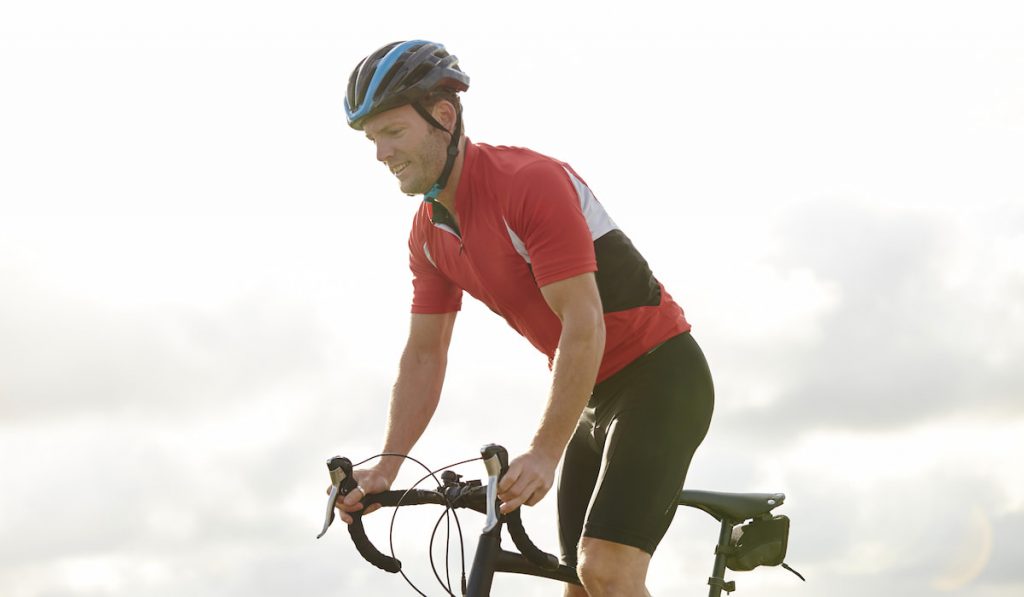 Different brands will have a slightly different variations in size. Finding the ones that fit you is essential to ensure that your newly bought cycling shorts won't make you uncomfortable and irritate your skin.
Instead, your shorts should be naturally tight and wrap gently around your skin.
Choose Shorts with Reflectors
No matter what you do, safety should always come first.
With cycling, you must keep yourself and others around you safe by wearing cycling shorts equipped with reflective elements.
Wearing cycling shorts with these safety features will ensure that any drivers, bikers, or even pedestrians can recognize your presence from afar.
Most manufacturers will adhere to a standard safety protocol and include this feature on their cycling shorts.
Do Not Wear Undergarments
Cycling shorts are designed to be worn without underwear. They have built-in chamois that act as absorbers to prevent friction by making the surface smooth.
When you wear underwear, it will take up more space and make your shorts too tight. That will make you feel uncomfortable or, even worse, irritate your skin.
Underwear could also trap more heat and make your shorts sweaty.
Wear Leg Grippers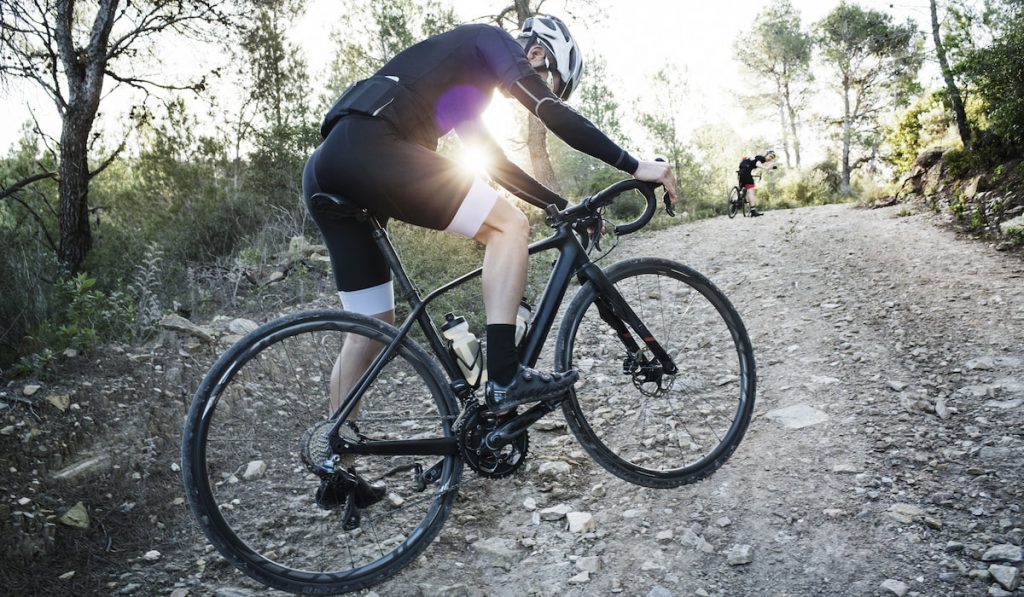 To prevent chafing, irritability, and discomfort during cycling, wear leg grippers to hold your shorts and chamois in place.
Legs grippers are bands that prevent your shorts from moving up your thighs.
When cycling, your legs will move, tugging your shorts upwards. Without leg grippers, your shorts could bunch up and cause chafing.
Apply Anti-chafing Lotion
Anti-chaffing balm or lotion moisturizes your skin and prevents chafing.
Although most newer versions of cycling shorts are made to reduce chafing, there is nothing wrong with using anti-chafing lotion to increase comfortability.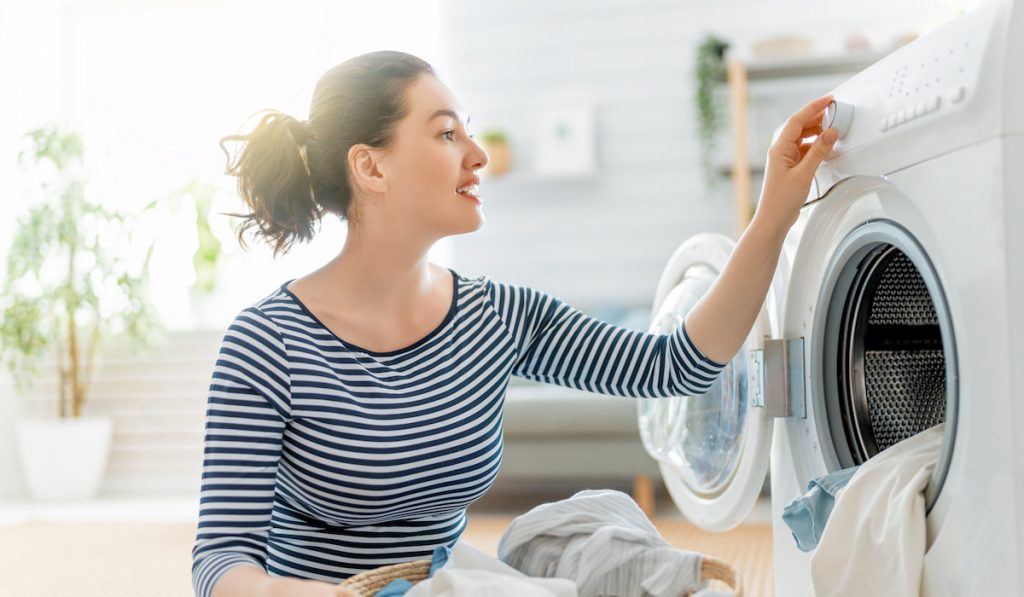 Wash Your Shorts
Last but not least — this shouldn't come as a surprise — but always keep your cycling shorts clean.
Wash them thoroughly after use to remove dirt and bacteria that could grow whenever you leave them unwashed for more than a day. Then let them air-dry.
Final Thoughts
Buy cycling shorts at your preferred local sports store to get the best out of your purchase. This is because most of these shorts come in various sizes, and depending on each brand, the sizes might differ.
Buying online comes with its own risk unless you are familiar with the brand and size that you have used.
Never look at buying great cycling shorts as a waste of money. Instead, look at it as an investment that can provide comfort when you go for a long ride.
Resources