*This post may have affiliate links, which means I may receive commissions if you choose to purchase through links I provide (at no extra cost to you). As an Amazon Associate I earn from qualifying purchases. Please read my disclaimer for additional details..
I remember the first time I rode in a long-distance bike race. It was 50 miles, and all I had was my daily driver that I rode a few miles each way to work every day.
It was a good bike, and I thought I wouldn't have any trouble on the course. I was in decent shape, and I wasn't out to kill myself trying to get a good time or anything.
Boy was I naive. From the start, I saw everyone else on road bikes. Some were made from carbon fiber, others from aluminum.
There were brand new road bikes and older bikes that had been around for a long time. But all of them were superior to the mountain bike I was racing on.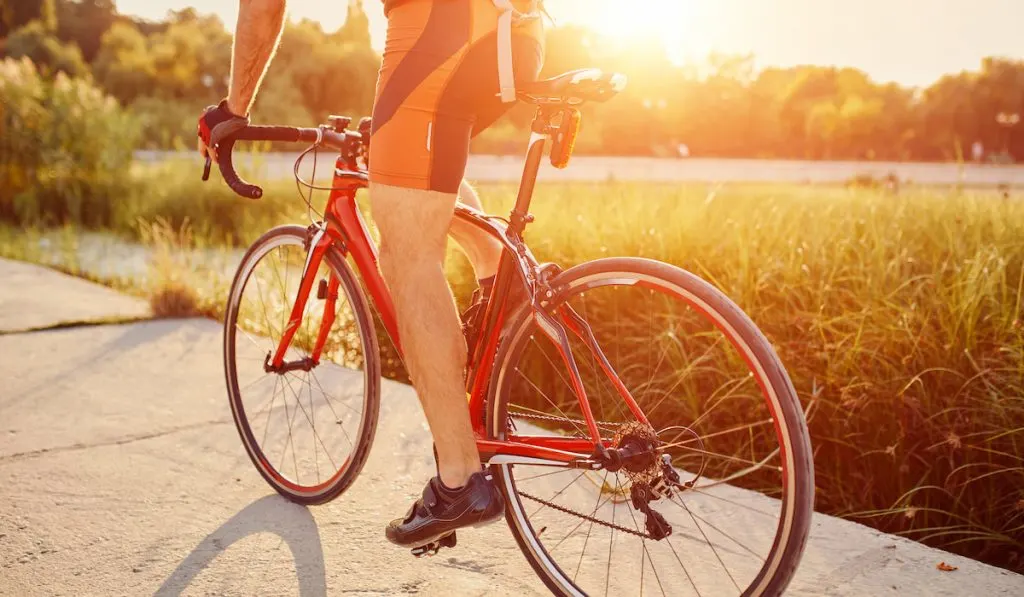 They sped past me and left me in the dust.
I found out pretty quickly that, if you're serious about cycling, then road bikes are worth the price.
Of course, road bikes come in a range of prices. You can literally spend anywhere from a few thousand dollars to more than what a brand new car would cost. A lot of it depends on what you are looking for and how much time you can dedicate to the sport.
Let's take a look at why road bikes are worth the price and some of the benefits of owning a road bike.
The Advantages of Having a Road Bike
Cycling is a great sport. For most of us, we start out with relatively affordable bikes that we pick up online or at a local sporting goods store.
These are sort of your one-size-fits-all type bikes. They are daily commuters with medium tires with moderate tread, a simple gear shifter, and some reflectors for riding in the evenings.
Not too complicated, and a good place to begin.
However, many people are amazed at the difference riding a road bike can make. Once you get the hang of it, you can ride faster, farther, and with less effort on a road bike.
Here are some different use cases that are pretty common.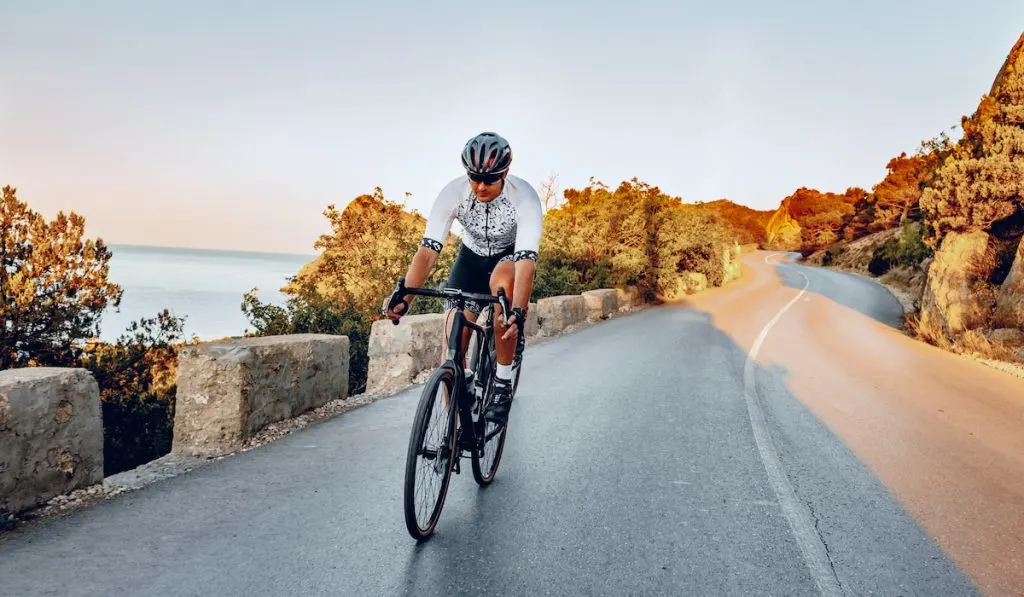 For Athletes – Road bikes are for athletes. They are built for cycling road races and triathlons. You can participate in events without a road bike, but it's a bit like showing up to a surfing contest with a boogie board. You can do it, but you won't be competitive.

Maybe you can get away with it for your first few events, but as you get deeper into the sport, you're going to want better equipment that will take you farther.
For Commuters – When people who aren't used to biking think about cycling to work, they probably imagine showing up all sweaty after an uncomfortable ride. However, with a good road bike, your commute to work can be smooth and easy. The advanced shifters and lighter materials will help you ride better.

Cycling to work has never been easier due to all of the bike lanes and focus on physical health. Moving from an older bike onto a good-quality road bike makes a huge difference.
For General Fitness – Cycling is also great exercise! It's easier on the knees than running and after saving you money on a monthly gym membership, the bike will pay for itself after not too long.

There are a ton of apps to make cycling more fun and competitive, and you can get some fresh air while you're out breaking a sweat.
Does a Good Road Bike Make a Difference vs. A Mountain Bike?
Mountain bikes and road bikes are built very differently and so the surface you are going to be riding on is important in deciding which type of bike to use.
Mountain bikes are great if you're interested in riding your bike down a trail or over rough terrain. It's an incredible workout that has a massive following.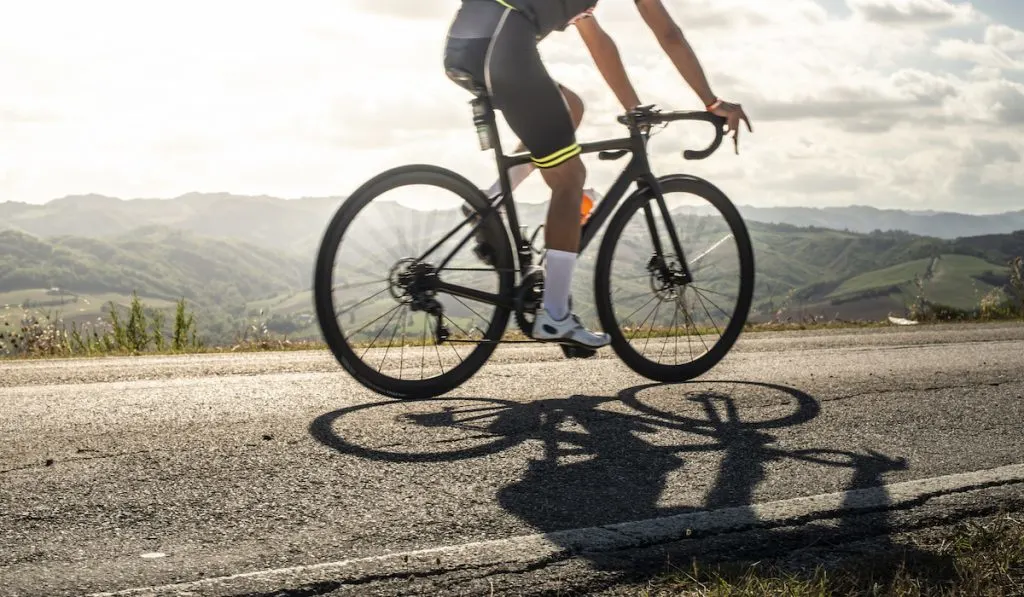 However, riding a mountain bike on a road is a lot harder than on a good road bike because they're typically heavier and have different tire tread that doesn't go over the pavement as smoothly.
Road bikes are definitely easier to ride. The thin, smooth tires on a road bike reduce the surface friction with the road as you peddle, requiring less effort to move and pick up speed. It's like night and day riding on a good road bike if you're used to being on a heavier mountain bike.
3 Road Bike Options for Different Budgets
We know everyone's not ready to run out and buy a five-figure road bike. Those are incredible bikes, but they're for either people with a lot of money lying around or for the athletes and enthusiasts who have been in the sport for years.
The money you spend on a bike will make a difference. Yes, brands and looks will cost you more, but for the most part differences in prices are related to material equipment and technology on the bike. You can really see a difference as you scale up into better designs and advanced features on a bike.
We've put together a short list of examples of what you can find based on different budgets. Below are three different bikes at the low, moderate, and higher end of the price range.
Affordable Starter Road Bike: $
For a few hundred dollars, you can buy a sleek road bike like the Eurobike XC550 that comes with a 21-speed shifting system, dual disk brakes, and a steel frame.
At this price, you're not going to get the latest and greatest in road bike technology, but it will get you on a road bike without breaking the bank. As soon as you start riding, you'll feel the difference the lighter frame and thin wheels make on the road.
EUROBIKE XC550 Road Bike,21 Speed Bike for Men and Women
Eurobike Road Bike XC550 with 54cm frame,Dual Disc Brake and 21 Speed Shifting system
【Disc Brake】The bicycle designed with dual disc brake,it provided great stopping effect and ensure you to brakes for safety at any weather conditions
【21 Speed gear】Road Bike with smoothed 21 speed shifting and it can make your cycling more easy.
Mid-Range Road Bike: $$
The Schwinn Volare 1400 is a 700C road bike great for men and women. It's a 14-speed bike that comes with 28-inch wheels on an aluminum frame. The quality comes in with Shimano derailleurs on the front and rear ends.
The oversized road tires feel smooth and fast on the road and it comes with an aluminum handlebar, stem, and seat post to keep things lightweight.
Schwinn Volare Mens and Womens Hybrid Road Bike
Quick and agile riding with the 21-inch aluminum fitness frame and rigid fork, with 700c wheels fit riders 5'4″ to 6'2″ height
14-speed shifter and brake lever combo provides precise shifting, you can trust for years of smooth shifting
Road bike equipped with alloy linear pull hand brakes, ensuring superior braking performance
Higher-End Road Bike: $$$
If you're feeling comfortable moving into the thousand dollar range for your first road bike, then take a look at the Tommaso Imola Endurance Road Bike. It comes in aluminum with a 24-speed shifter from Shimano (R2000 Claris STI shifters) and lightweight wheels.
Tommaso Imola Endurance Aluminum Road Bike
QUALITY CYCLING PRODUCTS SINCE 1985: Our Italian designed cycling shoes, bicycle, and cycling products have made riders look like pros since '85. But we're more than just fancy gear, we're a community. Our cycling-crazed customer service team in Denver can help with any questions or concerns. Plus, our Lifetime Warranty Replacement Promise means you can put our gear to the test with unrelenting confidence. We hope that you will Join The Ride, for fun, fitness, and community.
THIS IS AFFORDABLE PERFORMANCE, NOT ENTRY LEVEL: The Imola is a top-performing bike that's not just for beginners. Starting cycling can be intimidating, but we believe that new riders deserve bikes that deliver affordable performance without compromising on quality. We recommend the Imola for new riders who are serious about their cycling goals. Unlike other so-called "beginner bikes" that are quickly outgrown, the Imola comes packed with high-quality components found on high end bikes.
Tommaso is a direct-to-consumer cycling company that offers lifetime warranties on its products too, so you can have peace of mind if anything goes wrong.
Conclusion
If you're into biking or want to see what road bikes are all about, give one a shot and see what you think.
For most people, it opens a door into an entire new sport that changes the way they exercise or get to work.
Resources