*This post may have affiliate links, which means I may receive commissions if you choose to purchase through links I provide (at no extra cost to you). As an Amazon Associate I earn from qualifying purchases. Please read my disclaimer for additional details..
It doesn't matter if you're trying to lose weight by finding new ways to exercise or you are an NFL offensive lineman and just want to ride a bike in the offseason, it can be tough to find a bike for someone over 300lb.
If you're on the heavier side and have ever ridden a normal bike, you may know the pain of dealing with broken spokes and bent rims.
Normal bikes are not designed to take that much weight. Indeed, most of them are built for the under 300 pound crowd.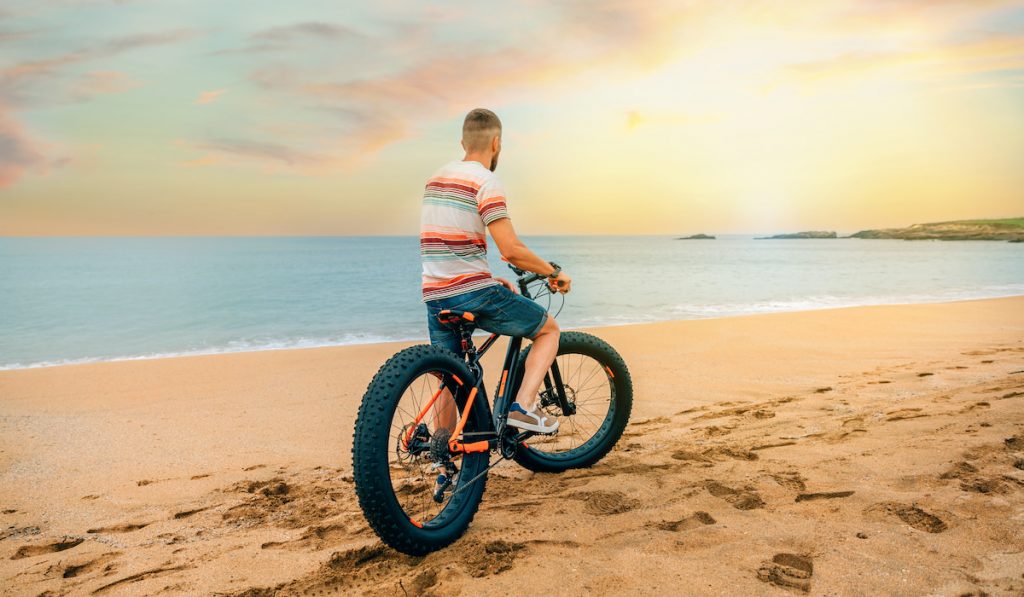 Sure, there are a lot of non-heavy-specific bikes that will probably take your weight on the road just fine. But they won't give you the performance and durability that you are looking for. Try taking one of them on a trail and see how long it lasts.
Whatever your reason for wanting a new bike, there are a lot of advantages to riding bikes for exercise. Besides being a lot of fun to ride, bikes are a great way to reduce the impact on your joints for, say, running, or other high-impact exercises.
As long as you've got the right gear and safety equipment, cycling is a wonderful way to break a sweat and get outdoors.
Most of us big people know the anxiety of hopping on a bike. We wonder if it will take our weight, and, if it doesn't, how much that fall is going to hurt. These concerns aren't without reason.
All it can take is a minor shift in weight at the wrong time, and all of the sudden your spoke pops or the bike tire rim bends and you go flying.
To get good exercise and stay safe on your bike, take a look at this list of some of the best bikes for men over 300lbs.
We've put together a list of 11 great bikes at different price ranges that you can feel comfortable on in almost any condition.
1. Mongoose Dolomite Men's Fat Tire Mountain Bike
With its hefty 26-inch wheels and 4-inch wide knobby tires, the Mongoose Dolomite Men's Fat Tire bike can take a beating on the trail, and it will serve you just fine on the streets.
This bike is very sturdy with a steel metal frame and adjustable features to fit people over six feet tall.
It's got front and back disk brakes to keep you in control of your speed at all times, and a seven-speed derailleur for climbing hits and for when you just want to cruise.
This bike has got a limited lifetime warranty, so the company will back you up in case anything goes wrong after the purchase.
Sale
Mongoose Dolomite Mens Adult Fat Tire Mountain Bike
Conquer any off-road trail with ease with this steel-framed mountain bike with supersized all-terrain knobby 26-inch wheels that fit riders 64 to 72 inches tall
The threadless headset is adjustable for riders of different heights; For added speed and performance, the strong, lightweight alloy rims keep the weight down
Ride comfortably with beach cruiser pedals and ensure safety with front and rear disc brakes
Rear derailleur with seven speeds makes hills easier to climb, while twist shifters make it smooth and easy to change gears while riding
2. Sixthreezero Around the Block Men's Cruiser Bike
The Around the Block Cruiser is a cool ride if you live in the suburbs or near the beach. It's a sturdier version of your typical cruiser bike and comes in two different sizes to fit different frames of various riders.
You can buy the bike with different gear shifters, which will impact the price, and it comes in a few different colors.
It's certainly a modern take on a classic style of bike. The position of the handlebars will keep you comfortable as you ride around town after work or start taking the bike to the grocery store instead of driving the car as a way to get more exercise.
This is not the kind of bike you want to take mountain biking, but it's a great around town bike that will serve you just fine.
sixthreezero Around The Block Men Beach Cruiser Bike
Classic, curvy men's beach cruiser bicycle with 19-inch durable steel frame; ideal for casual, comfortable riding around the neighborhood
Upright riding style keeps your back and shoulders comfortable; dual-spring saddle and wide cruiser handlebar with foam grips
21-speed Shimano Tourney derailleur and and friction shifters for tackling uphill climbs and long distances; front and rear handbrakes
26-inch, 2.125-inch wide aluminum wheels with large waffle tread tires provide a cushioned ride for easy rolling
Blacked-out components for added style; includes rear rack for optional baskets and panniers
3. Cannondale Trail 7
If you're looking for a great bike that's not too expensive, and one that will handle riding on trails and road just fine, then take a look at the Cannondale Trail 7. This bike is ideal for easy trails, dusty roads, and weekend rides around the neighborhood.
It also comes with some pretty good gear, like Shimano MT200 hydro disk brakes and a 2x 8-speed Shimano drivetrain.
It's a modern, durable bike that you can enjoy for years without much trouble. Some riders complained that they don't love the pedals on the Trail 7, but you can switch out for new pedals for an affordable price once you get the bike.
4. Priority Bicycles Classic Plus – Gotham Edition
The Classic Plus is a wonderful all-around bike that comes in a special black design (hence the Gotham Edition name). It's a smooth city commuter that has gotten features in prominent publications because it's a great mix of sleek design and high performance.
The Classic Plus comes with a water bottle cage, kickstand, reflectors, and puncture-resistant tires. It's got a 3-speed Shimano Nexus gear hub, so you're probably not going to be taking any mountains on this bike, but it's perfect for your daily get-around.
It goes a bit upscale with a rust-free Gates carbon drive belt as well.
5. Pure Cycles Gravel Adventure Bike
If you've never ridden a road bike before, you really should give one a try. So many of us are used to riding on mountain bikes because they're more affordable and easier to find.
Also, most heavier men take a look at a road bike's thin tires and immediately start questioning whether getting on is a good idea.
Enter the Pure Cycles Gravel Adventure Bike. This is a highly-rated steel-frame bike with a lot of clearance and mounts on it for you to have some fun decking it out.
The tires are thinner than on your average mountain bike, but they're beefy for a road bike and will keep you stable on loose surfaces like gravel.
It has a 16-speed Shimano Claris STI drivetrain that will serve you well on a commute or something a little more competitive. The Adventure Bike also has rear and front disk brakes for maximum response.
6. Raleigh Bikes Tristar 3-Speed Trike
Who says tricycles are just for kids? In recent years, trikes have been getting a lot of attention and are growing in popularity. They're extremely versatile bikes that can haul groceries, carry sports equipment, and other personal items.
Trikes are also amazing if you're on the heavier side and you haven't ridden a bike in years. We all know that eventually, you will remember how to ride a bike, but the balance can be a tricky thing sometimes.
With the Raleigh Tristar, you get a 3-speed trick that will require very little maintenance. It's also got a step-through frame that makes getting on and off the bike a lot easier.
What's more, the trike has a limited lifetime warranty on the frame as long as it is still with the original owner.
The bike is narrow enough to fit through doorways, an important consideration if you're going to be storing it indoors, and it's got a big comfy seat that will make getting around town a lot more enjoyable.
7. Diamondback Haanjo 3 Gravel Road Bike
The Diamondback Haanjo 3 looks like a road bike but is also built to handle gravel roads. It comes in a beautiful olive green color and is built to handle leisure rides or daily commutes.
This bike comes with disk brakes and road handlebars that can take some getting used to, but once you get the hang of it, cycling becomes so much more enjoyable. It's got a Shimano Sora 2×9 speed drivetrain that makes shifting gears a breeze.
The aluminum frame of the bike makes both challenging and long rides comfortable, and you'll enjoy how durable it is.
8. Merax Hardtail-Mountain-Bicycles Merax Finiss Aluminum Mountain Bike
The Merax Finiss is designed to be the best in affordability and modern features. This is a road bike that comes with disk brakes, a Shimano 21-speed shifter, and a quick-release front wheel.
The aluminum frame provides a great deal of stability for riders of all skill levels whether you're using it for fun outdoor exercise or to get to work every day.
This bike supports up to 330 lbs and weighs just 29.7 lbs, so you're getting a lot of quality engineering for a great price. The Finiss gets to you 85% assembled, and the rest is pretty easy out of the box.
While this one's not designed for trail rides, it will do just fine on pretty much any paved surface you come across.
9. Schwinn Discover Hybrid Bike
The Schwinn Discover Hybrid has over 1500 5-star reviews on Amazon. This is a killer bike that is great for people who want to ride all of the time or for people who want something affordable that they can bust out for a weekend ride with the kids.
Hybrid here means that the bike will do well on mild trails and road rides. It's not going to be the best bike you can buy for either scenario, but it will do well enough in either setting.
It also comes with the option to get the bike with either the traditional step-over frame (where you have to step over a high bar running under the seat to the handlebars) or the step-through frame.
Some people who are beginners may prefer to start on the step-through frame because it's easier to get on and off.
It comes with a padded seat, an aluminum frame, and fenders for all-weather riding. It will keep the water from splashing up onto your backpack or clothes if you are riding to work after it's stopped raining.
Sale
Schwinn Discover Hybrid Bike for Men and Women
Hybrid bike is great for commuting to work or riding down a leisurely bike path. Suggested rider height is 65 to 72 inches tall
21-speed SRAM grip shifter and rear derailleur mean that pedaling up a hill is easier; Alloy twist shifter compatible 4 finger brake levers
Promax alloy linear pull brakes, gear carrier, Adjust the angle (rise) of the alloy Ahead stem
Swept-back upright handlebars, padded seat, aluminum frame is lighter and yet durable, fenders keep dirt off the rider
Fenders keep dirt off the rider and Rear carrier for convenient city riding
10. Giordano Libero
The Libero is a 700c (refers to the wheel size) bike with an aluminum frame that's a fantastic road bike option for heavier men. It's a lightweight bike made from high-quality materials that will be durable and deliver all the performance you want from a good road bike.
With a 16-speed Shimano STI drivetrain and dual water bottle mounts, it's perfect for getting out on the road for a good, long ride.
The wheels on this bike are thin, and they're designed for smooth pavement roads, so if you're a beginner this one's probably not for you.
However, if you're confident on a bike and want to give a road bike a try, this is a wonderful choice.
It comes in three sizes, but large is the way to go if you're around 300lbs. Another thing you may want to consider is an attachable seat cover that's padded if this is your first road bike.
11. Kemanner Electric Bike
Electric bikes are everywhere now. An e-bike sort of defeats the purpose of using a bike for losing weight or to increase cardiovascular endurance, but we get it, some people want an e-bike that gets them around.
With the Kemanner, you can peddle when you want to.
Either pedal without a motor and kick on the battery when you start getting tired or hit that steep hill. Or you can engage the pedal-assist mode that only uses some of the battery power and you do the rest.
The Kemanner has front and rear disc brakes that work in all types of weather conditions and a 21-gear shifter from Shimano. A benefit of having a battery on the bike is that it powers a light that will help you ride at night.
The e-bike is going to be significantly heavier than all of the other bikes on this list, but its load capacity is 330 pounds, so it can take more weight than a lot of other e-bikes.
Choosing the Right Bike for You
There are a lot of options on this list. While we know finding a bike that can carry over 300 lbs can be a challenge, that's not the first thing that you should look for. First, ask yourself where and when you're going to be riding your bike, and then go from there.
You don't want to be riding a mountain bike five miles to work every day, and you don't want to take a road bike on your first trail ride with friends.
Get the bike that will best suit your needs and choose one from this list to give you the peace of mind that it will perform with you riding on it.
Resources