*This post may have affiliate links, which means I may receive commissions if you choose to purchase through links I provide (at no extra cost to you). As an Amazon Associate I earn from qualifying purchases. Please read my disclaimer for additional details..
A triathlons can cost a lot of money. It's a sport that requires a lot of specialized gear and racers have to put in thousands of hours of training to even complete a race.
These are not the sort of events where casual racers turnout for a fun weekend.
Triathlons are taxing even for the best athletes, and people are looking for whatever edge they can get.
All of that can mean high-end gear with a big price tag.
Whether you're a seasoned triathlete, or you're considering giving it a try with your first race, we know you want to get good value for your money.
The goal is really to find a race that delivers a wonderful experience for the dollars and time you spend to train and participate.
Let's take a look at what's involved in the price of admission and what's involved in race preparation.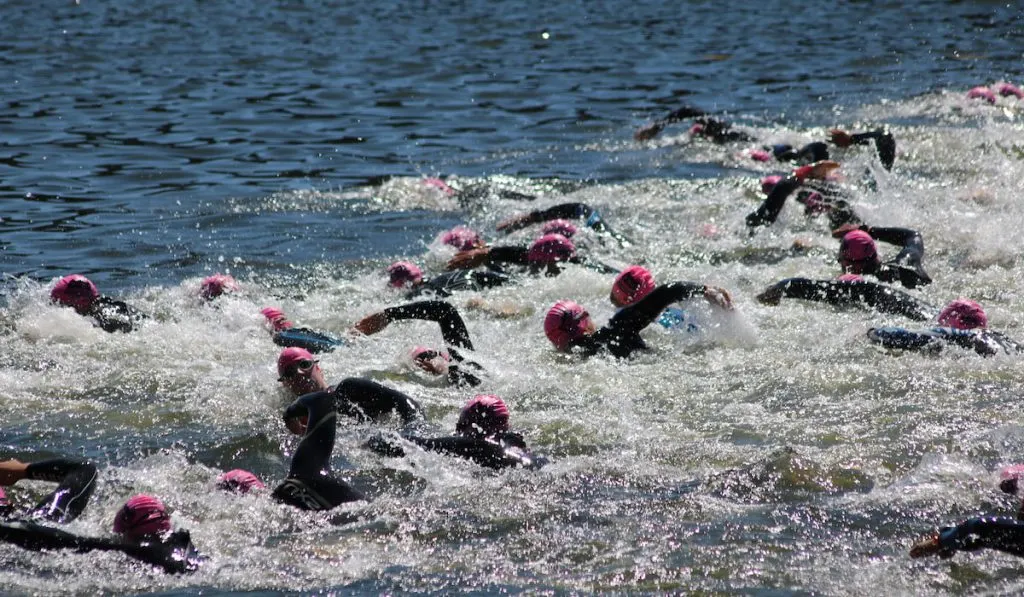 Triathlons Exploding in Popularity
What was once more of a fringe activity that drew in only the most hardcore athletes from around the world is now more of a mainstream affair.
And that's good news. Triathlons haven't gotten easier, they've just gotten more popular.
People from all over the country and even from abroad travel for the events and spend all year training for them.
Major races draw tens of thousands of racers.
Race organizers, as a result of the rise in racer numbers, have to deal with higher operational costs.
You've got security costs to deal with and more people mean more space to stage production, admission, and other components of a successful race.
Price Varies by Location
A triathlon in Mesa, Arizona is going to be cheaper than one in New York City.
It costs more to shut down the streets of a major city than it does somewhere with fewer people in general.
Organizers will pay more for food & beverage, to house employees, and for things like city permits that make a race go off without a hitch.
Smaller local triathlons will feel a lot more intimate than larger races that draw in more tourists and traveling racers.
It's going to be cheaper because things are more casual and expectations may not be as high.
That's not to say you'll have a better time at larger races. Small, local triathlons can be some of the best races out there.
If you're interested in some of the less well-known triathlons that will save you some money and give you a great experience, check out places like Louisville, Kentucky, Madison, Wisconsin, and Florida.
If you're a traveling triathlete looking for a good deal on an international race, Mexico has some fantastic options.
Curating an Engaging Experience
As more people join in, race organizers are hard at work making each triathlon an amazing experience.
They want you to remember all of the tiny details that went into the race.
There's a lot of effort that goes into branding, t-shirts and other swag, the food, music, afterparties, and other race-related activities.
If you've ever been to a great music concert, you most likely walked away impressed with the headliner's talent.
However, there's a lot more that contributes to a memorable concert experience.
Think about the backup dancers, the light shows, the arena set up, and how easy it was to get in and out of the venue.
It's the same with triathlons. Organizers are willing to spend more to create a unique experience and racers have shown they're willing to pay for something well-planned.
Let's Talk About Gear
The gear an athlete uses for a triathlon is where things can get really expensive.
How much money you want to spend will vary depending on your budget, how long you've been racing, and how seriously you take the sport.
Even casual racers will probably have to spend thousands of dollars getting ready for their first triathlon.
Here's a breakdown of some of the minimum requirements you'll need for a race.
Clothing
Triathlons are so popular because they're extremely difficult.
People are pushed to the limit like nothing else. When racers face such a massive challenge, every little edge helps.
One of the most critical pieces of gear will be the clothes you wear on the day of the race.
Specialized tri shorts and shirts will cut down on chafing and will make sweat management a lot easier.
The right padding level will also make you more comfortable on your bike for hours.
We recommend splurging a bit here, if possible because the clothes need to feel right for you to do well on race day.
Bike
Your bike is going to be, by far, the most expensive item on this list. A good racing bike can cost a fortune.
And, yes, expensive bikes make a big difference. You'll have a smoother ride on a lighter bike that's custom to your body.
How much you should spend depends totally on how much you can afford.
It's possible to do a triathlon on any bike, but if you're aiming for performing this is where triathlons get very expensive.
Running Shoes
You're going to be running a lot of miles as you train and during the race, so you need the right pair of running shoes.
We recommend visiting a specialty running store where the employees can analyze your gait and suggest shoes specifically for your running style and body type.
Helmet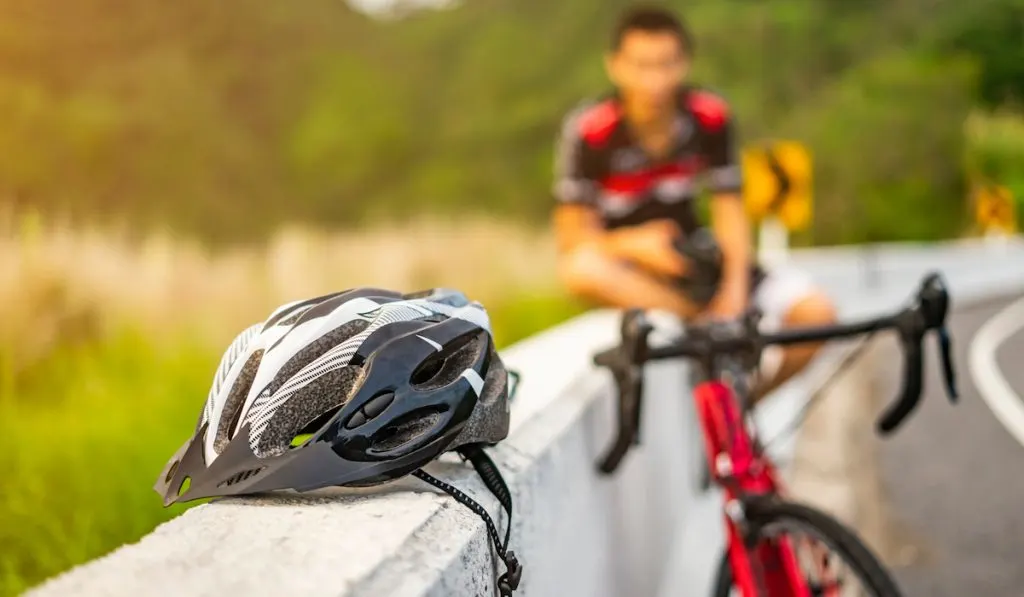 A helmet and other safety gear are also required. Find something you're comfortable wearing for hours. Opt for something lightweight.
Watch/Wearable
Tracking your speed, calories burned, and time in the race is all very important.
You have a lot of options here at various price points, so read some online reviews and talk to fellow racers if you're shopping for something new.
Final Thoughts
These are just a few items that you'll need to buy that can make triathlons a lot more expensive.
Things can get even more costly as you delve more deeply into the triathlon world.
There are speed laces to make getting your shoes on and off faster, a ton of different cycling shoes for your bike, triathlon wetsuits, and much more.
Triathlons can be done on a budget, for sure, but the basic gear will still set you back quite a bit.
But hey, it's worth it because there really is nothing quite like crossing that finish line.
Resources