*This post may have affiliate links, which means I may receive commissions if you choose to purchase through links I provide (at no extra cost to you). As an Amazon Associate I earn from qualifying purchases. Please read my disclaimer for additional details..
The point of a race belt is to help you save time when you need to move your number from the backside of your body to the front side of your body without having to stop, take your shirt off, or remove pins, etc.
Some race belts are easy to use with simple snap fasteners that will stay firmly on your body during the event.
In most triathlons, race belts aren't a requirement. However, as you become more competitive in racing, the time you'll save with a race belt makes them worth the small investment they require.
You can usually get a race belt for less than $50, so you'll need to decide how much saving that time is worth to you.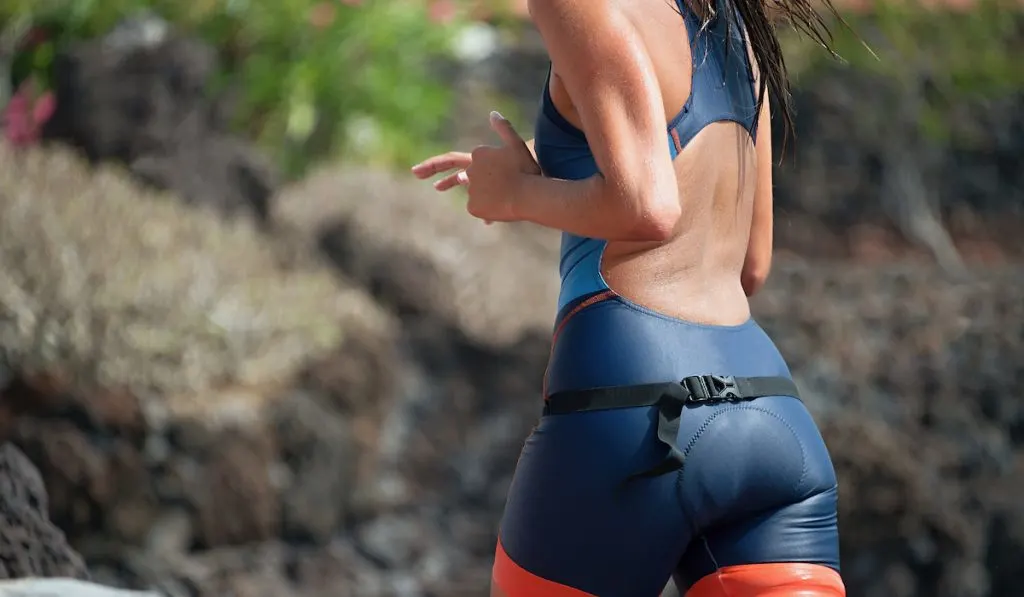 It's a good idea to buy your race belt well ahead of your race so you can use it several times before the event.
When you're switching stages of your triathlon, your adrenaline is going to be pumping, and you don't want to panic because you don't know how to work the fastener.
Here's some helpful information about race belts and a few different types to consider if you decide to buy one.
What Is a Race Belt?
In its simplest form, a race belt holds racer numbers around the waist. They're useful during the race because, when you're running, you need the number facing forward.
However, on the bike, it needs to be on your back. It's a good piece of gear to have because with a race belt, you don't have to change your shirt or fiddle with pins.
If the number is hanging around your legs during your cycling portion of the triathlon, it can hamper your performance. It will also get annoying flapping around your knees as you pedal over miles.
To buy a dedicated race number belt, you'll usually have to spend less than $20.
Most of them are just a strip of lightweight fabric with an adjustable plastic clip at the end. Two clips sewn into the belt attach your race number and keep it in place.
Sale
VeloChampion Running, Triathlon, Marathon Number Belt
✅ Fully Adjustable adult's running number belt. No pins needed.
✅ SUPERIOR QUALITY NUMBER BELT: The VELOCHAMPION Race Number Belt is the most comfortable race number belt you will ever own! It is also one of the lightest ever created at 33 grams (1.16 ounces). For those taking part in triathlon and running events who do not want to tear up their expensive clothing by poking holes in it with safety pins, and won?t compromise performance, this is your race number belt.
✅ FULLY ADJUSTABLE: It is fully adjustable to your waist width (male or female) and is one-size-fits-most on adults. The premium fabric webbing is soft and comfortable.
Gear Storage Belts
In addition to race number belts, there are a lot of options when it comes to gear storage belts. You've probably seen these on runners around your neighborhood, and then come in handy when you're training because they keep you on the road for longer.
Basic gear storage belts have a zippered pocket that is sometimes waterproof and have places to hold things like gel packs and other items you might need during an event. They have attachments included designed to hold your race number, so you should only need to wear one belt instead of two.
Gear storage belts look like mini fanny packs. The pocket is the size of the belt in most cases. Look for the belts that have race number attachments on them.
These usually go for under $30 and are available online or at any sporting goods store. You may have to spend more as your storage options and the number of compartments go up.
If you want to buy one for training that you can fit things like car keys, your phone, some credit cards, and other larger items in, then you can find something with a bigger pocket.
These probably won't be the best choice for the day of your triathlon, but they'll help you train and you can use it when you're not running as well.
Reflective Running Race Bib Belt With Elastic Webbing – Lightweight
UNISEX DESIGN – Enhance your running experience with our reflective run belt. This running belt for men and women provides perfect comfort with adjustable length and superior quality. Get one as a gift for your running buddy.
COMFORtABLE WEAR – The runner belt is lightweight of only 0.17LB and is perfect for any kind of sport activities – it's a great marathon running gear and triathlon gear. Our highly elastic running race belt is suitable for waistlines up to 42″.
Hydration Belts
Hydration belts are likely the largest race belts you'll see. They have to be big enough to hold small bottles of liquid around your waist firmly enough while you're running.
The most common hydration belts come with two slots for bottles. Many of them come with pre-fitted bottles included. They have squire nozzles and move in and out of their slots easily enough for you to grab while trying to keep pace.
To stay firm, hydration belt straps are often much thicker than the average racer belt. With the extra space, hydration belts typically come with slots for gel packs, and other storage containers.
Be careful as you go out and shop for race belts. Many hydration belts don't have dedicated race number slows. They're great for training though.
These are going to cost around $40-$50, so they are more expensive than the other belt options out there.
LotFancy Running Belt with Bottle Holder
🏃【MULTIFUNCTIONAL POUCH 】The 7.5×4 inches waterproof zipper pouch will fit up to 6.5 inches cellphones and hold ID, keys, credit card and more essentials, which makes your hands totally free while running. Water-proof material enables your belongs safe from being wet
🏃【2 BPA-FREE WATER BOTTLES】Our running hydration belt come with 2 6-ounce BPA FREE leak-proof pull-top water bottles. Won't feel thirsty during running. Using BPA FREE material to ensure the safety.
🏃【NON-SLIP DESIGN】The elastic nylon straps with buckle clip, gel-based bumps on interior surface of the belt to keep it from bouncing and chafing.
The DIY Race Belt
Most races don't dictate what kind of race belt you have to wear. Indeed, many racers don't like the way race belts feel. Instead, they choose to just switch their shirts around during the race.
It may take them a few more seconds but it helps them focus better so they think it's worth the trade-off.
Of course, since there aren't really any rules when it comes to race belts, you can always give making your own belt a try.
Some races have had success using a rope with some velcro attached to each end. It's adjustable, goes on and off quickly, and is extremely lightweight. You can even probably save yourself a few bucks by making one at home.
Read the Event Rules Before You Buy
If you're new to triathlons, don't just rush out and buy the first race belt you see. First, read the rules of your race to see if they say anything about which types of belts racers can use.
Find out if any are prohibited. You don't want to show up to the event and find out you can't use the belt you just bought.
If you have the money and you want to get the most out of your training, you'll likely do best with a mixture of different race belts. You can use the bigger belts for training because they hold more stuff, and stick with the minimalist belts for the day of the event.
Resources